LEGO Disney Princess Cinderella's Romantic Castle Play Set
---
Product Details
color: Other
gender: Girls
Cinderella's Romantic Castle measures: 9″W (25cm) x 8″D (22cm) x over 11″H (30cm)
Number of pieces in the Disney Princess play set: 646
model: 41055
Includes 2 mini-doll figures: Cinderella and Prince Charming, plus Lucifer the cat and Bruno the dog
Help Cinderella get ready in the bedroom in this LEGO Disney Princess Cinderella's Romantic Castle Play Set
Discover the hidden love letter under her bed
Take a romantic walk over the bridge and give Cinderella a push on the swing with this LEGO play set
Feed Lucifer and Bruno and tuck them into their beds
Tall towers, flags, throne, clock, bedroom for Cinderella, beds for Lucifer and Bruno, outdoor eating area, river, bridge, flowers and a swing
Look for the pearl inside the shell
Help Ariel practice her singing with the music sheet
Accessories include Cinderella's enchanted shoe, a hidden love letter, tiara, 5 heart-shaped diamonds, treasure chest and key for the door, a lipstick and a brush
This Disney Princess play set also includes a bone for Bruno and a bowl with milk for Lucifer the cat
LEGO play set Model# 41055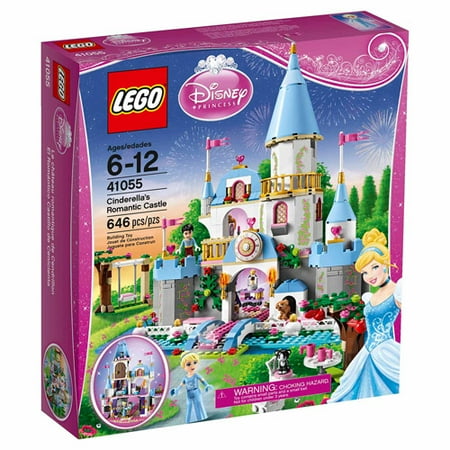 Prince Charming has invited Cinderella to a romantic royal ball! Play with Lucifer the naughty cat and with Bruno the frisky dog with this LEGO Disney Princess Cinderella's Romantic Castle Play Set. Explore all the different rooms at the Castle and find the key that unlocks the treasure chest with all the jewels. Romance is in the air as Cinderella and Prince Charming enjoy their first turn around the dance floor and a cozy moment in front of the fireplace. Just make sure Cinderella leaves the Castle before the big clock strikes 12 and the magical spell wears off. And remember to leave behind her famous glass slipper on the stairs outside so the Prince can find her again! The LEGO Disney Princess Cinderella's Romantic Castle Play Set includes two mini-doll figures: Cinderella and Prince Charming mini-doll figures, plus Lucifer the cat and Bruno the dog.
---
We accept all major Credit Cards, Amazon Payments, and Bitcoin.
We also offer an Additional 2% Discount for Direct Bank Debit Payments via Kash.com
Most items are shipped within one business day via UPS within the Continental United States.
Canada shipment can take up to 10 days
Alaska, Hawaii, and Puerto Rico shipment can take up to 10 days, and some items may not be permitted to ship to these locations.
If any shipment is not permitted to your area, full refund will be issued within two business days.
All returns accepted within 30 days after receiving the item.
Refund given as money back (no exchanges)
Return Shipping to be paid by buyer, unless item defective or damaged.
15% Restocking fee applies unless return due to defective or damaged product.
Perishable or Hazardous Goods are not returnable. Returns may require compliance with Manufacturer policies.